| | | |
| --- | --- | --- |
| 8 February 1999 | Tixoft Font Plug II 1.0 | Download |
Tixoft Font Plug II is a FREE General Purpose Plug-In for Winamp 2.04 or later. It is provide a supplement for the inability of Winamp to support international fonts on its display and playlist shade-mode. Tixoft Font Plug II is not an independent executable file. It is a Dynamic Link Library (DLL) which called by Winamp automatically. So, you still need Winamp 2.04 or later to operate this plug-in.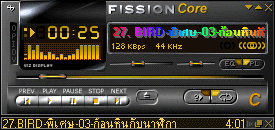 New! scrolling algorithm, more efficiency.
New! Scroll Type select two type of scrolling.
New! Auto Adjustment option, for someone who like a big font-size.
New! Shadow just a pretty look font effect :)
New! Playlist Shademode Font Plug Enabled font enabled for playlist.
Seperated configuration file for each skin.
Title display font now skinable.
Added "About Tixoft Font Plug II..." menu item to activate about dialogbox :)
Added Winamp's hot-spot detecting in Winamp and Equlizer.
Fixed stupid system-resources freeing bug.
Fixed menu catching in Winamp 2.09 bug.
Fixed stupid song-lenght displaying after playlist was clear then stop bug.
Fixed crazy scrolling when italic font-style was set bug.
Fixed ugly line appear on some skin after "Transparence Display" was clear bug.
Corrected the drawing regions in a title display.
Improved Winamp's window redrawing.
Used monochrome bitmap masking instead of color bitmap, less than memory usage.
Auto idle when Winamp is in window-shade mode or minimized.
More information in help file.
| | | |
| --- | --- | --- |
| 13 November 1998 | Tixoft PLEDITOR v1.0 | Download |
Tixoft PLEDITOR v1.0 for Winamp 2.01+ is a tool for you to create "PLEDIT.TXT" file easier. It's let you choose font and colors by using standard Windows 95 dialogbox. So, you can create "PLEDIT.TXT" file correctly and easily. This version is Thai Edition for Thai people only.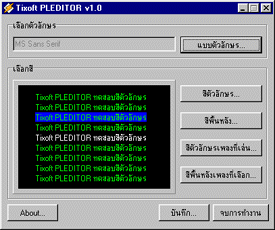 | | | |
| --- | --- | --- |
| 9 November 1998 | Tixoft Analyzer v2.0 PR1 | Download |
Tixoft Analyzer is visualization plug-in for winamp v1.8+. The plug-in display the spectrum bars from low freqency to hight frequency. This plug-in is based on HD Analyzer from Henrik Drewelow. I like HD Analyzer and wonder how it work. So, I started learning VC++ programming with Tixoft Analyzer.

No VU meter yet.
No double size support.
100% redesigned.
Optimized drawing routines.
Used popup menu for configuration.
Auto snap to Winamp or screen.
24 preset colors.
Smooth mode.
Several bug fixed.
Copyright &copy 1998,1999 Tixoft. All Rights Reserved